Carterm Intermodal Logistics Inc. offers a secure storage of ocean containers at competitive rates and supports it with reliable service that saves you money. Our Company was founded by a group of transportation industry professionals with the aim of offering the industry a better solution. Carterm solution brings together the strategically located, secure and efficient storage facility, as well as the team of qualified, equipped and empowered professionals who strive to deliver the best in value and customer service.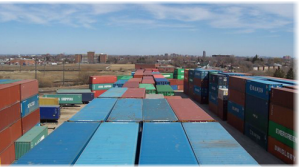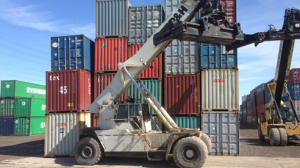 The container storage yard is situated within short distance from CN, CP and Coyote container terminals and this enables us to offer prompt, reliable, and cost-effective service for any volume of containers coming through these and other terminals. Whether in bond, temperature controlled or otherwise, your goods will be safe when stored in our fenced and security monitored facility with a security guard on duty; moreover, Carterm even further protects its customers by carrying a comprehensive insurance policy that provides up to $5,000,000 liability coverage.
Your shipments will be stored following all of your instructions including anticipated departure date. Our efficient tracking system allows our team to make your cargo available on short notice and we also offer 24/7 emergency service to meet your urgent transportation needs. We invite you to read Our Services section of this web site for more information or contact us directly.